Rio Ferdinand has not played for his country since June 2011 but even at the age of 34 many are still calling for his recall. Roy Hodgson has repeatedly played down the situation and claimed that the snubs have been down to 'footballing reasons'. As the once England captain has regained his place as one of the first names on the Manchester United, we ponder the question - Does he deserve to be left out the National team?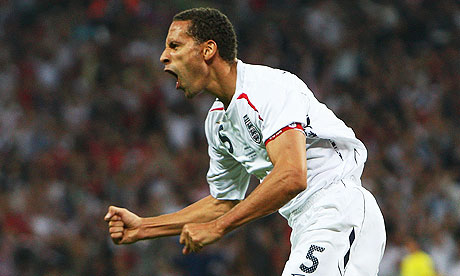 Recently Ferdinand stated that he would love a return to the England team, claiming that he loves playing for them. His most recent snub was the squad to face Brazil in a friendly at Wembley and it doesn't look like he'll be returning any time soon as Hodgson stated his irritation at the constant barrage of questions surrounding the United defender. Hodgson said
"I am not prepared, every time we play, to keep revisiting something which I have revisited at every single press conference for the last 10 months."
Throughout the whole scenario, Hodgson has claimed that Rio's omission from the squad was solely down to 'footballing reasons', however I think there are a number of other factors involved. Not least the whole 'John Terry and Anton Ferdinand saga' which Hodgson feared would cause animosity in the squad if he were to select Terry and Rio. Perhaps a sensible suggestion, not to have them both in the squad. Although if you look at it then really it should be Terry looking at the door as he was the one in the wrong in the situation. In my opinion, Terry is the better defender, however he was the one in the centre of the situation, why should Rio face consequences from his brother, not even him, getting racially abused?
Rio's most famous snub was undoubtedly his absence from the EURO 2012 squad which was unexpected by many. Rio responded with a rather inappropriate photo on twitter in which he asked "Woy, do I look bovered?" picking up on Hodgson's speaking impediment. A rather foolish act on Ferdinand's behalf in my opinion and one that was truly disrespectful to his manager. Although Hodgson had already made his decision about Ferdinand before the picture, surely this can't have helped any future chances that Rio had of making the squad.
Ferdinand has been key in United's last few games and seems to be re-finding his form from the days when he was once one of the most imperious defenders in the world. Although at the age of 34 and not getting any younger, perhaps he does have a case for a recall. If like Hodgson says, his absence is down to 'footballing reasons' then we should take a look at how he has performed this season in comparison to those beating him to the call-ups. Gary Cahill seems to have staked a rather large claim to be a regular in the National team as of late and if you look at his performances this season then you'll see that
In the table constructed, I have taken stats from this season alone and only performances in the Premier League. If the box is highlighted green then for that particular stat, that defender has the best or equal best result. If highlighted red then for that particular stat, the defender has the worst result. Orange is simply to indicate that the particular stat is neither best not worst. In terms of the stat for 'Defensive Errors', that has been defined as 'an error that led to an attempt on goal for the opposing team'.
If you take a look at these stats then I think you'll agree that they seem fairly balanced. Perhaps the weakest candidate there is Phil Jagielka who only comes top in the appearances category and has a considerably lower result for pass accuracy compared to the others. Taking a closer look at Ferdinand, it appears that he seems to have had a decent season. Only coming joint bottom in the goals scored (not all too important for a defender) and defensive errors (equally as bad as Cahill and Lescott!). He has the equal best pass accuracy, although his tackle success, 1 on 1 success and headed duels won stats aren't great. In my opinion, the stand out player here is John Terry, who despite a hugely disrupted campaign through injury and what not, comes out on top in 3 stats: Tackle success, 1 on 1 success and defensive errors. Terry also just misses out on a top pass accuracy and headed duels won stat too.
Overall, if you look at the stats, Ferdinand is by no means the worst defender compared to his National team rivals. There appears to be no sign of any footballing weakness as he matches up to the majority extremely well in my opinion. If you combine this with the fact that he is recently pulling out some top draw performances and in good form, then I see no reason why he shouldn't make the next squad. In terms of the John Terry saga, then I think Hodgson needs to sit them both down, see if they can agree to grow and get on with it like grown men should and get their heads down to try and bring back the World Cup next Summer, becoming the feared defensive duo from the golden generation again that they once were.
Do you think Ferdinand deserves to be in the next England squad? Tell us what you think in the comments below!
Thanks for reading, I hope you enjoyed it!