We all love the prolific striker who grabs 20 goals a season but we often forget the more unsung heroes of the game who do the hard work and have to sacrifice glory for others or just haven't been noticed yet.
First up is Wolves Winger, Matt Jarvis. The speedy Englishman can often be seen hitting in a cross for someone to poke in. Jarvis also chips in with the occasional goal for his side and although part of a relegated team last season he proved himself to be one of their best players perhaps hinting that he has earned himself a move back to the Premier League. Only capped once for England after coming on against Ghana at Wembley earlier this year many haven't heard of him or noticed his talents.
Next on the list is Tottenham's Scott Parker. The Spurs man represented England at the Euros however people don't realise all the hard work that goes on behind the scenes. He never gives up and although not regularly on the scoresheet he is often the man who wins the ball for his team and begins the attacks. Always putting his body on the line Parker gives his all in every match he plays and will no doubt continue to do so after he returns from his achilles injury.
QPR's Jamie Mackie is relatively unknown to most but in my opinion he is an excellent player who is very skill
full. Mackie scores the odd goal too and creates chances for others. Defensively he is good too as he works hard for his team. A determined player who came back from a broken leg last year better than ever however he is not often given plaudits for his goo performances.
Marc Albrighton is Villa's young winger. The 22 year old is quick and bursts down the wings before whipping in a great cross. He has a sweet right foot and nearly always produces a great delivery for his team mates. Diligent too in his defending, the youngster is a good prospect for the future and in my opinion should be in the England set up soon, I feel that perhaps a transfer to a more consistent club would do him some good.
The veteran Evertonian Leon Osman is next on the list. Osman has been a great servant for Everton for the last 12 years and has easily been one of their most consistent players in my opinion. With 33 goals in his Everton career Osman has often conjured up a piece of magic for his side. Osman is now 31 but you wouldn't be able to tell as he quietly does his work around the pitch.
George McCartney recently signed for West Ham from Sunderland and this is a good piece of business from the Hammers I feel. I saw McCartney play most of last season on loan for West Ham and what I saw was an excellent defender who can also get forward well. He doesn't let anyone past him and is never out of position, an intelligent player, he gets on with his work well. One of only a few at full-back who can get forward too and deliver a good cross.
Although he has been linked with a move to Liverpool recently, I don't think Joe Allen gets enough credit for his talents. The classy Welshman has been performing well for Swansea and Team GB with his excellent vision and ability to receive the ball under pressure and then calmly release it to a team mate. He was a pivotal member of the Swansea team last season and at such a young age I feel that he has a great career ahead of him and Liverpool will do very well to get his signature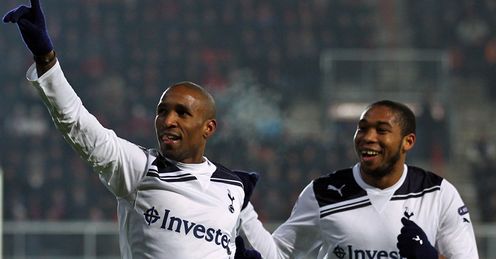 Jermain Defoe doesn't get much football at Spurs these days however I think this is quite unfair. He is a goal scorer and given the chance he will score goals. He finds it hard to find starts at Tottenham but he is quick and aggressive and should be played more. Involved in the England set up but not used much he is 29 and still has a considerable amount of football ahead of him, I think he would benefit from a move away from White Hart Lane where he can get playing football again and get scoring goals again as he definitely has the ability to.
Robert Green recently secured a transfer to Loftus Road from West Ham and after his catastrophic mistake at the World Cup, I think people have underestimated him. In the last few seasons for West Ham he has saved them countless times. Without Green in goal I feel that in the season where West Ham were relegated they would have already been down by February. He is a great keeper who excels at saving penalties. He has made one big mistake but hasn't let that affect him and carried on with his career playing better than ever before. This is a great bit of business from QPR and they will definitely not regret signing him.
Finishing off the list is Wigan Athletic's Ali Al-Habsi. The keeper has had a difficult time as he has struggled to keep Wigan in the Premier League but without him they would have been down years ago. His efforts are hardly ever recognised but he has kept Wigan in numerous games with incredible saves and he wears his heart on his sleeve giving his all for his side.
Who else do you think is under-rated and should be given more credit, tell us in the comments section below. Some feedback on the article would also be great.
I've added a thumbs up or thumbs down rating, please vote!
Thanks for reading, I hope you enjoyed it!