Whilst it may not have been as exciting as last year, I'm sure you'll all agree that this season has still been extremely entertaining. Although there wasn't a huge amount of final day drama, there were some big scores throughout the season, one which won't be remembered for good defending! In this article I'll be going through the next 5 teams in the league with the following ones coming in the next instalments. I've also managed to get a few comments from a fan of the respective clubs to see what they thought.
Liverpool
If you were to sum up Liverpool's season in one word then in my opinion it should definitely be 'inconsistent'. At times, Liverpool have looked extremely impressive and brushed teams aside with ease such as Swansea and Fulham. However, for as many times as they've been able to do that, they've also succumbed to a really disappointing result against a lesser team, putting in a very mediocre performance.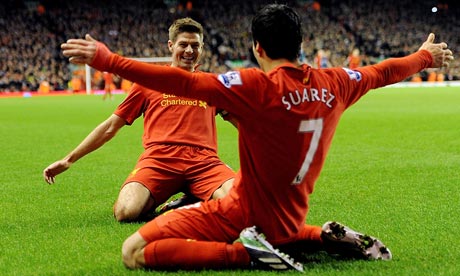 Rodgers was left short-changed at the start of the season when he put all his eggs in one basket to sign Fulham's Clint Dempsey and the American snubbed him for Spurs. This left him with a lack of attacking options and when Borini sustained an injury, the only striker they had was Suarez. The situation was made most evident when they travelled to Upton Park and because Luis Suarez was suspended, had to play Jonjo Shelvey up front due to having no recognised strikers available!
Despite a slightly disappointing season where they finished below rivals Everton, the future looks very bright for the Reds. In Rodgers they have an intelligent and considerate manager who has built a very solid base for the future. He bought in Sturridge and Coutinho in January, both being young and exciting players, especially Coutinho. If Rodgers has a bit of money to spend to replace Carra and possible offload Downing then I think Liverpool can challenge for the top 4 next season.
I got in touch with Liverpool page @LFCFansCorner on twitter to see what they thought about Liverpool's season:
"This season has had some highs and lows. At the start of the season we were poor, but we've been improving every game. Since the arrivals of Sturridge and Coutinho we've played so much better. We haven't been revolving around Suarez too much, meaning everyone's playing to their best ability. Rodgers' philosophy is starting to plan out. This season hasn't been a failure, but it was disappointing, not getting Europe and Everton finishing above us is painful, but anyone can see the improvement."
Manchester City
It was a difficult season for City as they feebly defended their Premier League title. Manchester United were better than them in every way this season and I'm sure the fans will be disappointed their team didn't put up more of a fight. Mancini didn't add too much to his squad and they seemed to lack fight. Whereas when Manchester United went behind they came back and grabbed at least a draw, city tamely surrendered very differently to this, like away to Southampton.
Aguero had a few injuries and they missed him, however I think it was more of a case of their top players not performing to the levels they're capable of. Joe Hart had his worse season for a while and made numerous mistakes. Kompany wasn't as efficient as usual and also let the odd mistake into his game. Also, Toure and Silva were nowhere near last season and whilst they did pull out a few good performances, they couldn't hit the levels of performance they achieved in the title-winning season. City simply missed their big players.
This poor title challenge was met with an embarrassing defeat in the FA Cup final to soon to be relegated Wigan, a defeat that summed up their season really. With Mancini gone, it looks like Manuel Pellegrini will be the man to take over. City need to spend in the Summer and it looks like they will after so far being linked with more top players than you could think of!
I got in touch on twitter with City fan @DisguisedPass to see what he thought about City's season:
"

Another season where the phrase 'typical City' returned. It was a season in which City failed to retain their Premier League title, coupled w

ith the Fa Cup final loss to Wigan.

If you had said 10 years ago, City would have finished 2nd and got to an Fa Cup final, I think I may have bit your hand off.

But in the manner that we lost that game and how we defended our title, it can only be viewed as a disappointment.
Some of our players were not consistent enough and there was only really Zabaleta who I would say had a fantastic season.
We were too predictable in our play and didn't strengthen with good signings.
I for one didn't wish for Mancini to go, but he has and we must move on.
Hopefully we bring in some quality signings and can go on to have a successful season, which would of course entail on winning back that
Premier League title."
Manchester United
The season ended in triumph for United and rightly so in my opinion, they were easily the best team in the league in my opinion. Whilst their defence wasn't exactly brilliant, they came roaring back after conceding and nearly always got a result. Coupled with their inherent ability to hold on to a lead, even when not playing well, they ran out winners with a few games to spare.
The only disappointment would be that they didn't pick up any other silverware. After tumbling out the Champions League to Real Madrid and being knocked out the League and FA Cups by Chelsea, they left the competitions empty-handed.
The end of the season was met with some sadness as it saw the retirement of 2 United legends in Paul Scholes and Sir Alex Ferguson. This meant a new manager was to be appointed and he came in the form of David Moyes. Next season will be an interesting one for spectators to see if Moyes can carry on the glory years.
I got in touch on twitter with Manchester United fan @Ronandinho_ to see what he thought about United's season:
"
Manchester United 2012-2013. Where do I start? With the 93rd minute title winning Aguero goal still stuck in United fans heads, this s
easons number one priority was to recapture the Premier League title, which would be their 13th. United added Shinji Kagawa to the Squad last summer, a move that had United fans licking their lips. But this was overshadowed when on the
15th August 2012 the club confirmed the arrival of Robin van Persie. A move that shook the Premier League, especially fans of both United and Arsenal.
United led the Premier League for the majority of the Season, but the gap really began to stretch around November - December time. City began to lose games and drop silly points, whilst United kept on grinding out title winning 1/2-0's. United looked uncatchable, but the horrors of last season still remained in the majority of the fans' minds. They refused to say it was won until it was mathematically won.
It was all set up for United to win it on home soil the following day. United were quick out of the blocks and scored early with that's right; Robin van Persie who followed up with 2 more to complete a title winning hat trick.
United lifted number twenty and thoughts quickly switched to number twenty one. That was of course, until the 8th May, when the whole of f
ootball was shaken, Sir Alex Ferguson was retiring at the end of the Season, ending his 27 year reign at the club on a high.
In summary; Comebacks, Drama, Robin van Persie, Revenge, Twenty, Champions, Sir Alex. "
Newcastle
A very disappointing season for Newcastle, it was incredible to see such a turn around from a side who challenged for the top 4 last year. I don't think anyone predicted such a difference from last campaign. One of the frustrations from the fans was the lack of investment in the Summer as they failed to bring in any big signings. Their biggest move was for Ajax's Vurnon Anita for £6.7m who didn't really have much of an impact.
It was like watching a different team and in my opinion it was a demise similar to that of Manchester City's as it was in part down to their star players from the season before not performing to their full capacity, with the exception of Cabaye in my opinion.
November was when they really began to disappoint as they picked up 1 point from a possible 15 in fixtures that weren't overly difficult. Having overseen this, Pardew bought in heavily in the January window in what will be known as a French revolution due to the number of French players purchased. After the window, things looked slightly better in February as they managed to beat Chelsea and Southampton. This success was short lived and they returned to their poor form, slipping up to Swansea and Wigan before suffering an embarrassing derby defeat to Sunderland and a thumping at home to Liverpool.
Next season, something has got to be looked at, whatever problems they had need to be sorted and improvements need to be made. However, the players now they can perform from the impressive season they had so I think they could easily get in the top 10 if they rediscover that form.
I got in touch on twitter with Newcastle fan @SacredNumber10 to see what he thought about Newcastle's season:
"
As a Newcastle fan, I am disappointed with season we just had. Finishing 5th and then 16th in the space of a season is a disgrace. Some poor
performances this season including Wigan and Sunderland have shown that it hasn't been our best performances. Also, some players haven't been up to standard such as Cisse and Gutierrez in my opinion. Injuries have been a key factor also having 1400+ injuries."
Norwich
Despite a nice 11th placed finish, Norwich's season wasn't as smooth as it seems. Towards the end of the campaign they became embroiled in the annual relegation battle. They began the season with a new manager in Chris Hughton after Paul Lambert left for Villa Park and things looked fairly good, in my opinion, they'd brought in a solid replacement. They couldn't have started the season much worse after being on the end of a 5-0 thumping from Fulham on the opening day.
They had to wait until October to get their first win in the league and even that came in a surprising manner after they defeated Arsenal at Carrow Road. An excellent result, made more impressive by the fact it followed two thumpings from Liverpool and Chelsea. They quietly ticked along, picking up a result here and there before claiming their next scalp in United.
As the season began to come to a close and the battle to stay up became tighter, Norwich began to find themselves amongst the pack of teams who were dangerously peering over the edge into the relegation zone, constantly looking over their shoulder rather than looking up the table. So a rather average season for Norwich who will be happy they stayed relatively clear of relegation and didn't suffer from second season syndrome, but on the other hand will be disappointed they couldn't make much progress on last season. Despite finishing a place higher than last time out, I'm sure the Canaries will be wanting more from their team next year.
I got in touch on twitter with Norwich fan @NCFCRumours1902 to see what he thought about Norwich's season:
"Overall, this season was a season of highs and lows. Starting short of strikers with our pre-season "inform" striker James Vaughan on loan. T
hings didn't get any better as we slumped to a 5-0 defeat, first game of the season against Fulham. Things then failed to get any better again as we took just 3 points from our next 6 matches. But then we hit form, going 11 games unbeaten in the premier league with Man Utd and Arsenal being the stand out wins in that period. But again. From the start of January - the end of March we only picked up 13 points despite signing Luciano Becchio and Kei Kamara on loan. (Although we did failed to sign Gary Hooper on numerous occasions).
With these Results we were stuck right in the middle of a relegation dogfight, as the other bottom teams started to pick up points. This left us with 2 games left and needing 3 points to guarantee PL football. West brom (home) and Man City (away). Luckily, we performed brilliantly and beat west brom 4-0, leaving us safe and comfortable with a game to go. Again, we came put on top show away at Man City beating them 3-2 with a great solo goal by Johnny Howson helping us finish 11th.
Despite some lows we ended up finishing 1 place higher than the previous season! Now the future is looking very bright for us as we have signed Ricky Van Wolfswinkel for £8.5m and Javier Garrido for an undisclosed fee. With us finishing 11th, it means we ended up getting £7.5m for our finish. With the money left over from January and our summer budget we are being linked with various big money moves. This should be a very interesting summer and I'm really looking forward to next season!"
So that rounds up part 2 of the overview, if you liked it then please leave a comment, would love to know what you think. Thanks to everyone who gave their comments for each team, be sure to give them a follow on twitter!
Don't forget to follow us on twitter too!
@Latest_Footy
Thanks for reading, I hope you enjoyed it!