As an enormous La Liga enthusiast, I (@TheTacticsRoom on Twitter) have thoroughly enjoyed the league season. Some of the world's finest players ply their trade in Spain, and this is my selection of the players who have impressed me the most over the course of the year.
Thibaut Courtois – The young Belgian on loan from Chelsea has had a phenomenal season. Atletico Madrid conceded the lowest amount of goals in La Liga by some margin (31 in total, 9 less than the 2nd best defence), and some world class performances have seen Courtois cement his position as the best young goalkeeper in the world. With 20 clean sheets and the Ricardo Zamora Trophy (an award given to the keeper with the best minutes per goal conceded) to his name, his fantastic season fully justifies his place in this team.
Jordi Alba – Originally a wide midfielder whilst at Valencia, Jordi Alba's game has adapted in recent times and this has led to him being deployed in a full back role. Impressive performances for Los Ches earned him a place in the Spain squad for Euro 2012, as well as a move to Barcelona – and the marauding left back has had a fine season. Filipe Luis was another consideration for this position, but Alba just edged it in the end for me.
Diego Godin – Like any fantastic defence, Atletico's impressive record is a combination of efforts between the goalkeeper and the backline. All four of their regular defenders had fine seasons, but only the Uruguayan finds a place inside this team alongside Courtois. Diego Godin is an important player in how he brings the ball forward from defence and carries it into midfield, but his defensive capabilities have been his key asset this year. Completely justifies this spot.
Inigo Martinez – Spain's finest young emerging centre back, Inigo Martnez has been a key member of Real Sociedad's Champions League qualifying side. Composed on the ball, very technically gifted and a fantastic reader of the game, he is also capable of scoring a goal or two (4 this year in fact, a fantastic return from a centre half). It's no surprise that he's being linked with a move to the
Bernabeu or the Nou Camp from San Sebastian after such an impressive season - this 22 year old has a huge future ahead of him.
Carlos Martinez – Inigo's namesake & Real Sociedad team mate Carlos is another member of Philippe Montanier's side who has impressed this season. A right back who is comfortable at both ends of the pitch, Martinez has 4 assists to his name this year. His concentration and reading of the game are a huge part of his contribution at the other end of the pitch however, helping La Real to secure the 4th best defensive record in the league.
Benat Etxebarria – Real Betis finished 7th in La Liga this year, and the leader of their orchestra is this man – Benat. A very creative and economic passer of the ball, he has been vital for their success, impressing many people in the finest season of his career so far. His performances were rewarded with a place in Spain's preliminary squad for the Confederations Cup – and though he ultimately didn't make the cut, in a country with such a fine selection of midfielders he has stood out. It was a very successful campaign in all for the 26 year old regista.
Asier Illaramendi – Another member of Real Sociedad's team, Asier Illaramendi has been one of my stand-out performers in La Liga this year. His links with La Real and exquisite range of passing has unsurprisingly drawn comparisons with Xabi Alonso for his style of play, but he also provides a greater willingness to defend, press and tackle – excelling in the volante role and dictating the flow of the team. The plaudits and recognition are slowly starting to come in for Illaramendi following this season, and he made an absolutely vital contribution to their excellent year.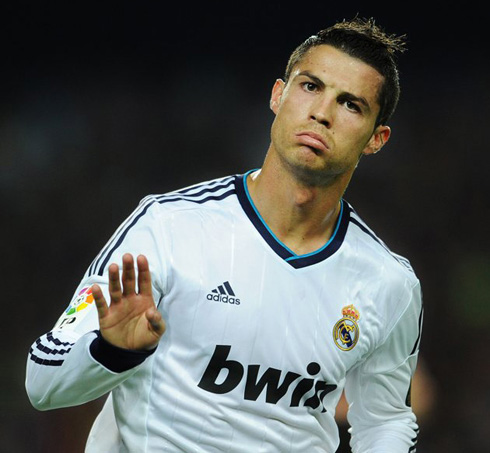 Cristiano Ronaldo – Jose Mourinho may have described his final year in charge of Real Madrid as 'the worst of his career', but the Portuguese winger has had a phenomenal season once again. Mourinho's use of him (and Di Maria) as a very direct inside forward has been rewarded highly time and time again, demonstrated by his total of 34 goals in La Liga. Ever dependable as usual, his inclusion is of no surprise.
Mesut Ozil – The next member of this team is, in my opinion, the best trequartista in modern football. The German attacking midfielder, Mesut Ozil, is quite possibly my favourite player to watch in the world right now – and this season he has once again exemplified his talents on a huge stage. He has been a key member of the team this season, scoring 9 goals and providing 14 assists (the 2nd highest in La Liga), and is often the key in linking up Real Madrid's fluid attacking play. Like his Real team mate Ronaldo, he deserves this place.
Carlos Vela – The fourth and final Real Sociedad player in this team (which really emphasises how good they have been) is Carlos Vela. A relatively quiet spell at Arsenal saw him sold to La Real in the summer of 2012 (after a previous loan spell) and regular appearances have really helped the Mexican develop as a player. He's played predominantly off the right wing this year, coming inside onto the splendid left foot he possesses. His 14 goals show off his finishing abilities, with 9 assists to compliment his scoring record – a fantastic return from him.
Lionel Messi – What can be said about this man which hasn't already been said before? He scored a stunning total of 46 goals (including a run of 21 consecutive games in which he scored) in 32 league games, breaking all kinds of records along the way – in a year that was disrupted by injuries as well!
It was impossible to leave the Argentinian out of this team, especially after playing such a key role in Barcelona reclaiming the title from Real Madrid. My player of the season.
Subs:
Willy Caballero – Malaga finished La Liga in 6th place and had the 5th best defensive record in Spain, many thanks to their goalkeeper Willy Caballero. Also played a big role in their excellent Champions League run, where they arguably deserved to qualify for the semi-finals. He put in some fine performances.
Martin Demichelis –The veteran Argentinian centre back is another Malaga player who's impressed this year. His lack of pace and mobility occasionally leaves him exposed, but a world class reading of the game and positioning makes up for this. Almost eclipsed Diego Godin for a place in the starting XI.
Andres Iniesta – One of the finest midfielders of this generation, Andres Iniesta provided the highest amount of assists (16) in La Liga and was hugely important for Barcelona's title win. As we've come to expect from the magician, it was another remarkable season as always for him
.
Isco – A player who reminds me of Andres Iniesta with his gliding style and immense dribbling, this kid is one of the biggest prospects in world football. He has really stepped up to the world stage this season, running midfields and impressing in European competition. Greatness awaits.
Piti – Rayo Vallecano are the team operating on the lowest budget in La Liga, and a 9th place finish by Paco Jemez's side represented a huge achievement. As captain of this team and the leading scorer with 18 goals (drawn 6th highest in the league), it would have been extremely harsh leave the 32 year old Piti out of this XI.
Ruben Castro – Drawn with Piti as the 6th highest scorer in La Liga, Ruben Castro is Real Betis' second player in this team. The Verdiblancos' star striker was very important in their 7th place finish, a very good season for Pepe Mel and his players.
Falcao – The third striker on the bench is arguably the finest natural centre forward in the world right now. His 28 goal return was hugely important in a fantastic season for Atletico Madrid, helping them to 3rd and a Copa Del Rey title. Unfortunately he has played his last game for Atletico and it is a big shame that he's leaving La Liga, but an impressive season nonetheless for the Colombian.
So - it's been yet another fine season in La Liga, and we've been rewarded with some top class displays from some of the world's greatest players – and the above 11 players (18 including subs) have been the ones who have impressed me the most over the course of the year.
Thanks for reading this article, I hope you enjoyed it. If you want to read some more of my opinions then please follow me on Twitter. My username is, as previously stated, @TheTacticsRoom. https://twitter.com/TheTacticsRoom