Moussa Dembele moved from Fulham to Tottenham in the transfer window this Summer. Spurs triggered the release clause in his Fulham contract by bidding £15m for the Belgian but the question is, will he be a flop or a superstar?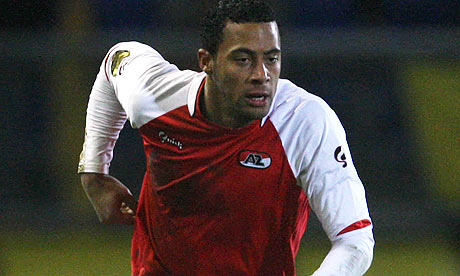 In 2005 Dembele signed for the youth section of Willem II, however this was after Ajax had reportedly shown some interest, he had already caught some eyes with his footballing ability t seems. After progressing well there he went on to earn a move to Dutch side AZ Alkmaar and they almost won the Eredivisie title but they were pipped in the end by PSV Eindhoven. From here the team went downhill and finished 12th, it was however the 2008-2009 season that was Dembele's breakthrough one. Although injured for a sizeable proportion of the season, he was recognised as one of the best players in the league, impressing many. This earnt him a £5m move to Fulham in 2010.
Dembele started his Fulham career slowly but surely, scoring on his first start for the club. He had a decent first season but it was last campaign that saw him really recognised by people. He performed very consistently and this was rumoured to have attracted a number of big clubs however it didn't seem as though any followed up their interest. I think what really swung it was the way in which he started this season. He ran the game against Manchester United in which Fulham narrowly lost 3-2 at Old Trafford.
The Belgian prefers to play as an attacking midfielder, the carries the ball well and is never afraid to take opponents on, beating them most times. He is strong and rarely gives the ball away in midfield. He has enough pace to regularly beat his man and enough skill and intelligence to know when to release it. Dembele also carries a good shot on him and this was shown with his excellent goal that he scored on his debut for Tottenham against Norwich where he buried a low shot into the bottom corner from the edge of the box after leaving his man for dead.
I personally think Dembele will fit in well to the Spurs team, he will definitely fill the hole left by Van Der Vaart and can play in the attacking midfield role alongside Sigurdsson with Bale left, Lennon right and Parker protecting the defence I think it will make for a solid team with either Adebayor or Dempsey playing up top. What will also help him settle in is the presence of fellow Belgian Jan Vertonghen who Dembele will no doubt know well. This was good business by Tottenham and Dembele will shine in a good team however I do think £15m was a little too much however if he fulfils his potential like he should then Tottenham will have no concerns in splashing out on the playmaker.
Don't forget to rate the article by giving it thumbs up or thumbs down below! Will Dembele be a flop or superstar? Tell us in the comments!
Thanks for reading, I hope you enjoyed it!