As a player, Paolo Di Canio scored over 100 league goals but when he joined Swindon to manage them not play for them in 2011, no one predicted what was going to happen to the club.
Di Canio started well with a 3-0 win over Crewe Alexandra, who also went on to be promoted last season. He immediately made the headlines not long into his reign when he was involved in a pitch-side altercation with his own player Leon Clarke, who was later exiled from the club. This sent out a message, Di Canio wasn't going to take any rubbish from anyone, he would do things his own way.
In January of this year Di Canio claimed the Premier League scalp of Wigan Athletic, defeating them 2-1 to knock them out of the FA Cup. Di Canio's Swindon went on to reach the final of the Football League Trophy, however they lost 2-0 to Chesterfield, nonetheless an achievement in Di Canio's first season. The season went on and Swindon were promoted as Champions of League 2. An impressive impact in his first season guiding Swindon to a league title and cup final. Di Canio claimed that if his side won the league he would get a Swindon tattoo, now that is commitment.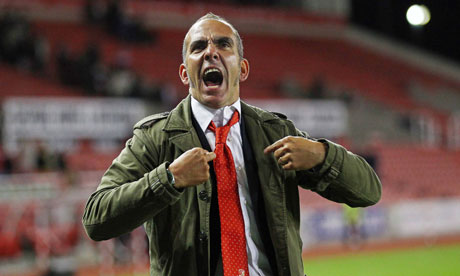 What made him such a good player and makes him such a good manager is his passion. Before being appointed as the manager of Swindon he had no connections with the club but put everything into the job. Di Canio also wore his heart on his sleeve when playing in claret and blue for West Ham. He wants to win on the sidelines as much, if not even more than the Swindon players on the pitch do and this means they give even more in the game.
What sets him apart from other managers is the way in which he goes about his business. He does what he thinks is right and doesn't care for anyone elses opinions, a huge risk to anyone ordinary, but not Paolo Di Canio it seems. He showed with his team selection a while ago by leaving out captain Paul Caddis due to a "change in attitude". He didn't care whether the fans thought it was a bad move, he did it because he felt it was the right thing to do.
Di Canio has hit the headlines yet again as he substituted his goalkeeper after 21 minutes of the game against Preston. The man in question was 21-year-old Wes Fodderingham who had made a mistake, but what annoyed Di Canio was his arrogance when the keeper began to moan at other players after his mistake. He claims that he won't put him back into the team until the keeper apologises to the fans. Perhaps it is this "raw" approach that causes the players to perform, they know that if they don't act professionally then he won't stand for any of it. Di Canio has a good knowledge of the game and was an intelligent player which backs up his excellent managerial record.
Some will say Di Canio is a fool and is crazy but he is not opinion, he is a great manager. He has principles and insists that these are followed. He has found a way to get the best out of his team and this is as far from easy as it gets when it is your first season in charge. Swindon go into League 1 this season seeing another promotion as a dream however I believe consolidation would be an achievement from a club only just promoted. Whether the club's fortunes continue or not, I believe Di Canio will go on to be a Premier League manager, and a successful one at that! No matter what you think of Di Canio, love or hate, I think you'll agree that he is great for the game!
Don't forget to rate the article by giving it thumbs up or thumbs down below!
Is Paolo Di Canio a managerial genius or nutter, tell us in the comments section!
Thanks for reading, I hope you enjoyed it!