Only announced yesterday was the shortlist for the 2012 Ballon D'or Award, widely regarded as the highest personal accolade for any individual to acquire. Last year Lionel Messi of Barcelona and Argentina took the award for a 3rd time in 3 years, an astonishing feat. Although he is arguably the favourite for the crown he does have quite a lot of competition this year. Here is the official shortlist:
Sergio Agüero (Argentina & Manchester City)
Mario Balotelli (Italy & Manchester City)
Karim Benzema (France & Real Madrid)
Gianluigi Buffon (Italy & Juventus)
Sergio Busquets (Spain & Barcelona)
Iker Casillas (Spain & Real Madrid)
Didier Drogba (Ivory Coast, Chelsea & Shanghai Shenhua)
Radamel Falcao (Colombia & Atlético Madrid)
Zlatan Ibrahimović (Sweden, AC Milan & Paris St Germain)
Andrés Iniesta (Spain & Barcelona)
Lionel Messi (Argentina & Barcelona)
Manuel Neuer (Germany & Bayern Munich)
Neymar (Brazil & Santos)
Mesut Özil (Germany, Real Madrid)
Gerard Piqué (Spain & Barcelona)
Andrea Pirlo (Italy & Juventus)
Sergio Ramos (Spain & Real Madrid)
Cristiano Ronaldo (Portugal & Real Madrid)
Wayne Rooney (England & Manchester United)
Yaya Toure (Ivory Coast & Manchester City)
Robin van Persie (Holland, Arsenal & Manchester United)
Xabi Alonso (Spain & Real Madrid)
Xavi Hernández (Spain & Barcelona)
Although not right up there with the best throughout last season, undoubtedly one of the best strikers in the world on his day is the Ivorian Didier Drogba. In the latter stages of his career his powers have faded and he wasn't as effective all the time last season but he cannot be ignored after his intervention in the Champions League Final. Something that cannot be avoided was his miracle showing in the Champions League Final. In his last game for Chelsea he signed off in unbelievable fashion by first thumping in a powerful header to equalise the game and send it to extra time and then just to cap it off he rolled in the winning penalty to win Chelsea their first ever Champions League trophy, an amazing night for all of the Blues persuasion from West London. An unlikely winner but worth a mention for his heroics in Munich.
Main Contenders:
Andres Iniesta has been arguably the best midfielder in the world this year. His passing is almost perfect at times and just when it looks like Spain or Barcelona can't unlock a defence as they string together pass after pass on the edge of the opposition box he is the one who darts through the gap to create a chance or slips through a delicious ball to an attacker. The stat of 47 assists in 2011-2012 speaks for itself and he got on the scoresheet on no less than 8 occasions too, showing he has more to his game than simply setting up teammates.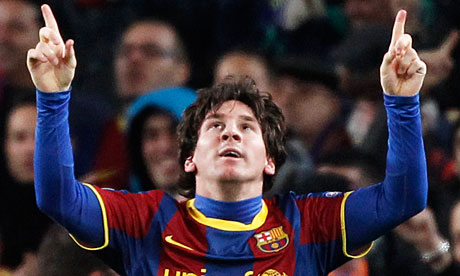 Lionel Messi is obviously the favourite for the award again this year but who can blame him after getting 73 goals in 60 games, he's carried on his form this season too with 17 goals already in just 14 appearances. He dances round defenders for fun giving them the run around. There's not really much else to say about Messi, the record speaks for itself, maybe the best player there has ever been?
Cristiano Ronaldo was not far behind Messi in terms of goals last season with 60 in 55 and he has 1 more than the Argentine so far this season. Always seen to be in Messi's shadow however many claim he has more to offer with his robust physique and heading ability. The Portuguese has torn apart La Liga since joining for a record fee and could push Messi all the way for the award this year.
Robin Van Persie and his sweet left foot dragged Arsenal into another Champions League campaign last season with him finishing as the top scorer in the Prem. Many claimed he led the Arsenal team last season and was their only good player, I can see why they say that as he almost single-handedly kept them in the top 4. He earnt a Summer move to Manchester Untied and has continued to impress with 7 goals already this season.
In my opinion, there is no one better in the world at this moment in time than Lionel Messi. This could possibly be the closest he has been pushed for the award with Ronaldo right behind him but I still think he will grab the award.
Who do you think will win the Ballon D'or Award of 2012? Tell us in the comments!
Leave any feedback or questions in the comment section below and I'll get back to you.
Thanks for reading, hope you enjoyed it!